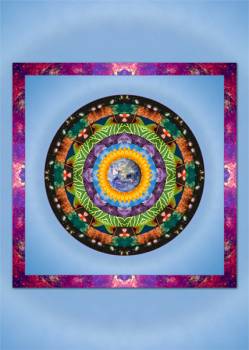 The Gaiafield Lodestone image serves as a visual portal into the Gaiafield. The image is made of photographs of natural elements and starfields. Each circle within the image depicts a layer of the planetary Gaiafield.
We call this image a "Lodestone" because it magnetizes attention to the field and provides a direct visual link with the mineral, plant, animal, human, solar and celestial elements that comprise our living planetary environment.
We are now providing laminated meditation cards of the Gaiafield Lodestone to support and amplify your experience of the Gaiafield Attunement process.
The laminated cards are 5×7". They are easy to hold, durable, and affordable. These cards are a wonderful aid to deepening your contemplation of the Gaiafield. The cards can be ordered individually, or if you are hosting a hub meditation, you may wish to order them in multiple copies for those who will gather with you. They fit into a small box for US and international shipping.
Holding the Gaiafield Lodestone in your hands and placing it in your environment grounds the field in your location. The Gaiafield Council has been using the Lodestone image in this form and can bear witness to its efficacy. We hope that contemplating this image will illumine your connection with the Gaiafield Project* and communicate the joy we had in co-creating it.
*Profit from sales of the Lodestone cards goes to support the work of the Gaiafield Project. Read More about the image. The Gaiafield Lodestone image was envisioned by the Gaiafield Council and created by Bonnie Gold Bell & David Sun Todd, of Bell & Todd Arts www.bellandtodd.com