About GaiaField
About the Gaiafield Project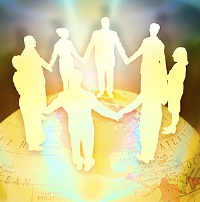 Many people intuitively recognize the potential power of uniting large numbers of people around the world in common intention for collective or planetary transformation. Several well-organized global meditation and prayer events, such as the Harmonic Convergence of 1987, the GaiaMind meditation of 1997, and the annual International Day of Peace Vigil have involved hundreds of thousands, if not millions, of people. Numerous research studies have documented consistent, significant correlations between the presence of large groups of meditators and improvements in social indicators such as crime rates, war deaths, and terrorist activity. We regard these and similar activities as a kind of subtle activism, laying the foundation at a deep level of consciousness for the shift we need toward a more sustainable, socially just, and spiritually fulfilling world.
The Gaiafield Project's vision is to develop subtle activism principles, theories, practices and programs, and to co-create a global network of subtle activists for social and planetary transformation.
Structure
The Center for Subtle Activism at CIIS is the educational vehicle for the Gaiafield Project. The CSA is an action research center to advance the study and practice of subtle activism.
The Gaiafield Alliance is an association of subtle activist leaders who co-create, regularly practice, and disseminate the ever-evolving core Gaiafield subtle activism practice.
The Gaiafield Council is a group of self-selected members of the Gaiafield Alliance who govern the Gaiafield Project.
Gaiafield Council
The Council meets regularly to practice subtle activism, to develop collaborative subtle activism programs, technology, and multisensory media, and to support the subtle activism initiatives of its members. Our work is guided by the Gaiafield Principles which are in alignment with the broad principles of the Earth Charter, namely:
respect and care for the community of life;
ecological integrity;
social and economic justice; and
democracy, non-violence and peace
Who is the Gaiafield Project?
The Project begins within you as a subtle activist and grows from the shared wisdom and participation of subtle activists all around the world. It is our collective story of who we are and how we interact as we practice together as secret agents of compassion. It is a place to tell our personal stories of our reflections and experiences from our meditations, prayers, dances, and other subtle activism practices.
Anyone who participates in the Gaiafield Project by subscribing to the free monthly Gaiafield Times enewsletter, sharing their thoughts and ideas in our community center, or attending a Gaiafield event becomes a treasured member of the Gaiafield Network. The Gaiafield Network is a thriving part of the global subtle activism movement that we call Gaiafield Planet.
Who organizes the Gaiafield Project?
The Project is fiscally sponsored by the Center for Subtle Activism (CSA) at the
California Institute of Integral Studies
in San Francisco,
USA
. Project action research is coordinated by a
Gaiafield Council
of subtle activism leaders self-selected from the
Gaiafield Alliance
. Please
contact us
with any questions or suggestions.