Gaiafield Synergy
7-session live training with David T. Nicol
Discover a method for building profound levels of group synergy you can apply to any group or organization
Sharpen your capacities to perceive subtle dimensions of reality
Receive inspiration and support for your world-changing mission
Be personally uplifted, healed, and held by the group field
Next class begins September 14.
Introduction to Subtle Activism
Digital course with David T. Nicol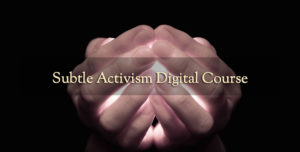 This online course provides an introduction and overview to the concept and practice of subtle activism. The course consists of:
three teaching sessions

three high quality guided subtle activism practices

Introductory chapter to David's book Subtle Activism: The Inner Dimension of Social and Planetary Transformation.
The Gaiafield Project
The Gaiafield Project promotes the study and practice of subtle activism, which affirms the power of consciousness-based approaches like global meditation and prayer events to support social and planetary transformation. The Gaiafield Project develops subtle activism principles, practices, and programs, builds connections between leaders in the field, and co-creates a global network of subtle activists to support a shift to a global culture of peace.
We are grateful to New Stories for serving as the fiscal sponsor of the Gaiafield Project.
---
What is Subtle Activism?
Excerpt from interview with David Nicol by Sheri Herndon of OBO Radio
"Science is increasingly coming to embrace the notion that consciousness and world, or mind and matter, are complexly interrelated."
David Nicol, Subtle Activism: The Inner Dimension of Social and Planetary Transformation